As of 1st June 2023, the first edition of "AI for Teachers, An Open Textbook" is, well, open! You could browse its pages in 5 languages: English, French, German, Italian and Slovenian.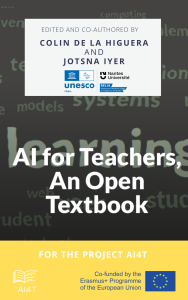 This work comes in the backdrop of Artificial Intelligence becoming a technology to reckon with, especially in the field of education. What teachers need to know today and what they would need to know in the future are questions discussed in official forums and school corridors around the world. Committees are working on it, both at the level of Ministries of Individual nations (in France and in other countries) and beyond (Unesco, OECD, Council of Europe…).
Our responses to common questions related to the textbook:
Who is the textbook for?
First and foremost, we address teachers' needs: we discuss how AI is being used to do schoolwork, how it could be best used(or not) in education and what to watch out for.
Beyond that, what teachers would like to understand about the technology itself: Artificial intelligence is an arduous subject, and to really understand it, one may need to (re)study mathematics, programming, etc. But while it is not necessary to know how to create an AI application, it is important to understand its mechanisms. Our aim is to enable teachers to make the right choices when it comes to adopting or not adopting AI for various aspects of their vocation.
In addition to teachers, this handbook could also be useful for teacher trainers, policy-makers and parents who want to keep abreast of ideas and developments in this field.
Who are its authors?
This work has benefited from thoughts and inputs from partners inside the AI4T consortium and beyond. While Colin de la Higuera and Jotsna Iyer, of the Unesco RELIA Chair, have edited and written most of the book, their contribution has been reinforced by guest writers from partner institutions.
How did this work come about?
This textbook is one of the deliverables of the project AI4T (Artificial Intelligence for and by Teachers) which was launched over 2 years ago, well before OpenAI's Chat-GPT took us by storm. At that time, a consortium of 5 countries (France, Slovenia, Italy, Ireland and Luxembourg) obtained Erasmus+ Key action 3 support to reflect on how to better train teachers in Artificial Intelligence, in a world where AI's role in our schools and homes was becoming hard to ignore.
How is the book organised?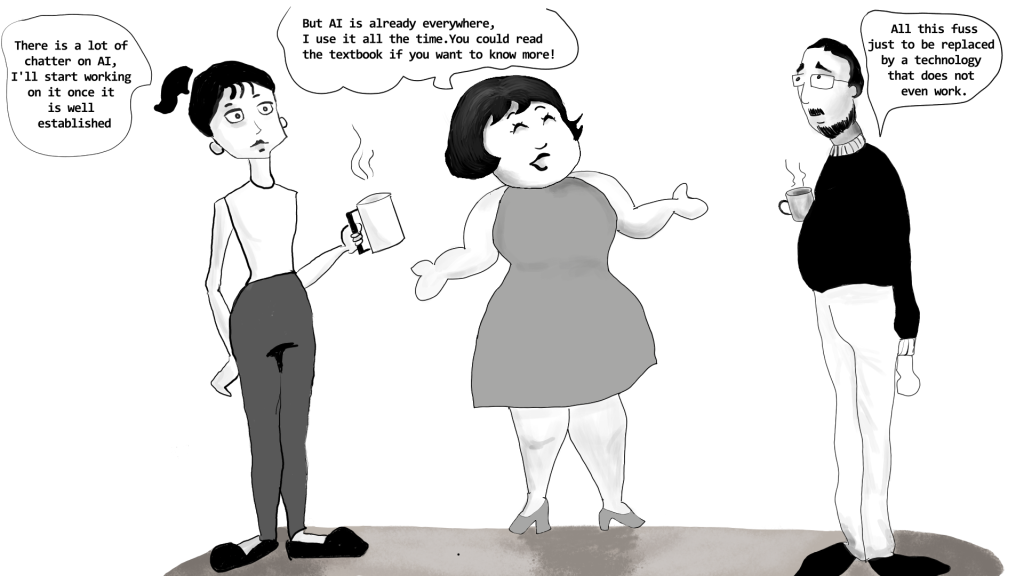 The content of this first edition, completed in November 2022, revolves around 6 chapters:
Why Learn about AI, discusses how AI is already present in our classrooms, what does it mean for educators, students and learning and why we need to look under the hood to understand this topic and its implications.
Finding Information is about how one genre of AI tools, the search engine, can impact learning and how AI makes this into a powerful, even disruptive, weapon in the teacher's arsenal – provided they know how to use it best. In the last two parts of this chapter, we discuss how search can impact both the individual and the society.
Many software packages are available today to help with Managing Learning. In this chapter, we look at some of the main ideas common to these systems and in particular, how data is used in AI.
A major opportunity for AI in Education is how it can help with Personalising Learning: the two sigma dream of Benjamin Bloom. Various aspects of AI for adapting learning to the individual student are discussed here.
Listening, Speaking and Writing are powerful and transformative skills in their own right. The moment the machine (via AI) appropriates them, it opens up pedagogical scenarios and challenges. It is in this chapter that we address the intricacies of modern language teaching.
After all is said and written, AI is not a static technology. We have tried to envisage certain scenarios for the future in The Next Steps. But this chapter, written in October 2022, didn't see the generative AI hurricane coming… Let's hope that the second edition will make it a chapter in its own right!
In each chapter of the textbook, you'll find information on how AI works: in particular, where there is a lot of jargon, the terms that come up often and,therefore, those that need to be understood: data, training, models, bias… Each chapter also touches on the impact of these technologies in education, and their use case scenarios; And, systematically, an analysis of the ethical and social issues involved. Whether enthusiast or sceptic, novice or geek, we hope you could find something that will help you!
Why is it an open textbook? And what does that mean for you?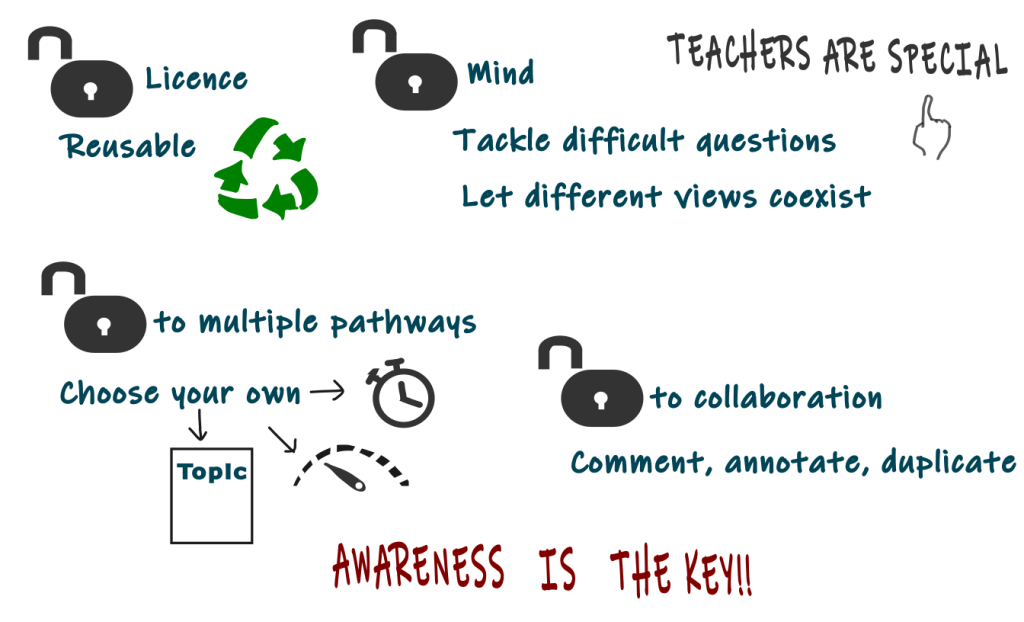 The textbook is distributed under a CC BY 4.0 licence and thus is open to anyone who wants to share and adapt it. This makes it easy to translate. This also means it can be updated more quickly, which is important given the speed with which AI is evolving. Finally, it simplifies collaborative writing and enables everyone to contribute.
This edition was completed in November; why was it not open to the public before June?
The AI4T project follows a scientific approach: resources were created as part of the project (including this open textbook) and were tested from January 2023 onwards in the 5 European countries belonging to the consortium. The test protocol consists in comparing a population of teachers who have had access to the resources with a control population who did not have this option. To prevent the control population from using the resources of the project, the textbook had to be password-protected. That is, until now: the price to pay for a rigorous experimental process. In the context of education, we are rather in favour of properly piloted experiments.
How is it distributed?
It is available on the project platform (AI4T): No need to register or give your email id. It is written on Scalar, another Open resource. A big thanks to the volunteers who were part of this platform!
This a "first edition"? What does this mean for an open, online book?
The writing continues: today, the second edition is already in the works with new pages (a whole chapter on generative AI and much more), videos and additional activities. And we hope you will collaborate with us: if anyone would like to write a page, or suggest an activity, please write to us at [email protected]. We can't wait to hear from you!