Report n°1: Teachers' competences
Early in 2023, in response to the developments in artificial intelligence (AI) a special AI Squad was formed in the European Digital Hub of the European Commission. From February to June 2023 the AI team engaged in intense discussions on various aspects of using AI and its impact on education.
This is the first report focusing on teachers' competences – teaching with, about, and for AI. The report addresses educators, school leaders, advisors, and decision-makers in the field of #education.
Ethical guidelines on the use of AI
As the application employs artificial intelligence, the French Ministry of Education has chosen it to allow French teachers, undergoing the Mooc session during the AI4T project, to discover Kwyk for free.
ChatGPT and AI in higher education
Quick Start Guide ChatGPT was published in April 2023. Artificial Intelligence (AI) is a rapidly developing field. This guide is based on GPT-3.5, the latest free version of ChatGPT available at the time of writing. As well as dynamic changes in technology, the ethical implications of ChatGPT and other forms of AI are also swiftly advancing. Readers are advised to constantly check reliable sources for the latest news and updates.
April 2023
Shaping the future of digital education
The purpose of the report Shaping the future of digital education is to assist governments in shaping the field of digital education. By presenting various viewpoints for governments and education participants, it examines factors that facilitate the effective and equitable utilization of digital technologies in education systems. The report presents a thorough assessment of existing trends and upcoming policies, encompassing primary, vocational, and higher education. It emphasizes strategies to establish a unified and comprehensive policy structure for digital education.
July 2023
Listen to policy makers and experts on the challenges and solutions for reaching the potential of digital technologies for education.
Speakers:
Antoaneta Angelova-Krasteva, Director for Innovation, Digital Education and International Cooperation, Directorate General for Education, Youth & Culture, European Commission
Helle Hallik, Chief expert, Ministry of Education and Research of Estonia.
Axel Jean, Head of the digital innovation and applied research support office, French National Ministry of National Education, Youth and Sports
Dragana Kupres, Croatian Academic and Research Network (CARNET)
Andreas Schleicher, Director, OECD Directorate for Education and Skills
Moderated by moderator Duncan Crawford, Senior Content Manager at the OECD Directorate for Education and Skills.
July 2023
Artificial Intelligence and the Future of Teaching and Learning
The U.S. Department of Education Office of Educational Technology's policy report, Artificial Intelligence and the Future of Teaching and Learning: Insights and Recommendations, addresses the clear need for sharing knowledge, engaging educators, and refining technology plans and policies for artificial intelligence (AI) use in education. The report describes AI as a rapidly-advancing set of technologies for recognizing patterns in data and automating actions, and guides educators in understanding what these emerging technologies can do to advance educational goals—while evaluating and limiting key risks.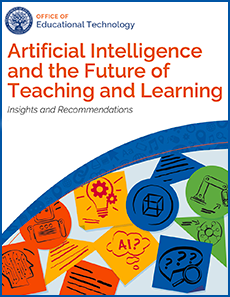 UNESCO report AI and education offers guidance for policy-makers on how best to leverage the opportunities and address the risks, presented by the growing connection between AI and education.
AI in Learning: Designing the Future
Report AI in Learning: Designing the Future includes the latest research on AI in Learning, connecting human learning and machine learning. It provides pedagogical models and practices to use AI at different levels of education and in working-life, reflects on ethical issues of AI in various contexts. It also provides pedagogical models and practices to use AI at different levels of education and in working-life.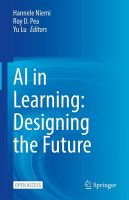 Artificial intelligence in science and the future of research
Raising the productivity of research may be the most valuable of all uses of AI. Gathering the views of leading practitioners and researchers, our new publication examines policies and explores current, emerging and possible future uses of AI in science through a series of insightful essays.
Browse the book Artificial Intelligence in Science by OECD
Generative AI and the future of education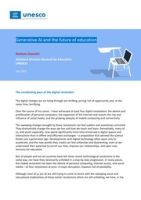 K-12 AI curricula: a mapping of government-endorsed AI curricula
This mapping exercise analyses existing AI curricula with a specific focus on the curriculum content and learning outcomes, and delineates development and validation mechanisms, curriculum alignment, the preparation of learning tools and required environments, the suggested pedagogies, and the training of teachers.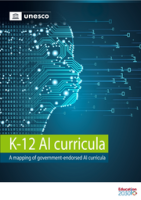 The toolkit aims to provide a comprehensive understanding of the myriad ways AI can be used to streamline administrative tasks, conduct research, enhance personalized support, improve learning and assessment quality, and more. 
EIT InnoEnergy Master School Teachers Conference 2023, Stella Lee, PhD