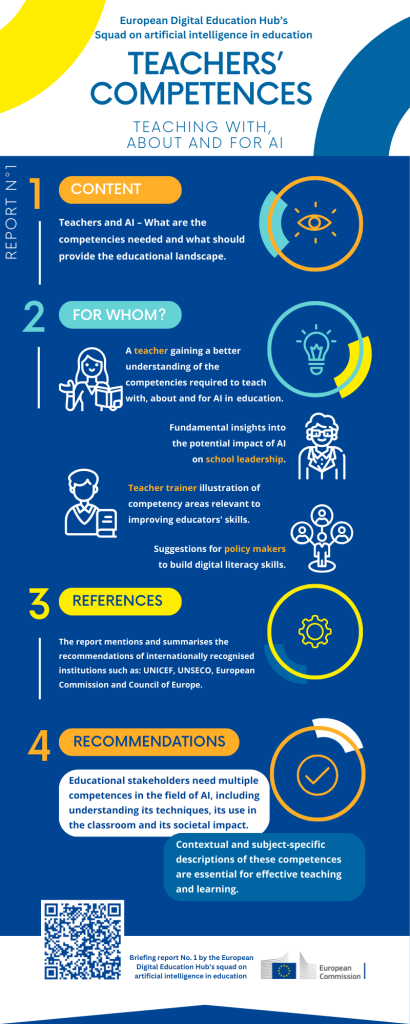 In February 2023, in response to developments related to artificial intelligence (AI), the AI in Education team was established within the European Digital Hub. From February to the end of June 2023, the team, called the AI Squad, held intensive discussions on various aspects of the use of AI and its impact on education. Two of our colleagues from the project are also members of the team, and so the AI4T project is also included in some reports.
The result of these discussions is the production of seven informative reports:
Teachers' Competences
How to Support Teachers to Use AI in Teaching
Use Scenarios & Practical Examples of AI Use in Education
Education about AI
Influence of AI on educational governance
AI and ethics, human rights, law, education data
Teaching with AI: assessment, feedback and personalisation
We share with you Report No. 1, which looks at teacher competences – teaching with, about and for AI.
The report is intended for teachers, school leaders, consultants and policy makers in education.
For teachers, it offers a better understanding of the competencies required for teaching with, about and for AI in education.
From a school leadership perspective, it offers reflections on the potential impact of AI on education.
For teacher trainers, it presents the areas of competence that are important for improving educators' skills.
It provides suggestions for policymakers on building digital literacy in education.
The report cites and summarises recommendations from internationally recognised institutions such as UNICEF, UNESCO, the European Commission and the Council of Europe.
In the last section, the expert team highlights the recommendations:
Different education professionals, including teachers, school leaders and IT support staff, need different competences for teaching with, for and about AI, with different levels of knowledge, skills and attitudes. Teaching about AI and using it to support requires different competences, but all teachers need to understand the impact of AI on humans and have competences for teaching with AI. For all competences, contextual descriptions with subject-specific examples are crucial.
For more details, please read the full report.