Last week we held a wonderful networking event that brought together educators from Italy, Slovenia, France, Ireland and Luxembourg leaving an indelible mark on all participants.
Participants of AI4T training and speakers Maria Antonietta Di Noia, Carmen de Stasio, Giulio Borra from Italy and Maja Vičič Krabonja from Slovenia shared their valuable experiences and insights, inspiring fellow educators with their knowledge and innovative approaches.
For example, the Italian teacher Dario Nitido, spoke about an AI-powered tool called ChatPdf. This application provides personalized assistance, real-time interaction, and dynamic engagement with educational materials for both teachers and students.
The networking event also featured Leon Koch's presentation on the European Digital Education Hub. This virtual platform offers educators from across Europe the opportunity to collaborate, exchange ideas, and access professional development resources. Koch emphasized the benefits of joining the Hub, including an extensive network of like-minded educators and a supportive community dedicated to advancing digital education.
Leon Koch, EU Digital Education Hub presentation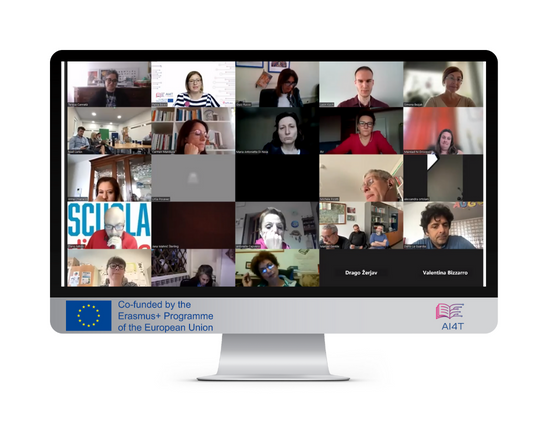 The event served as a catalyst for meaningful connections, the exchange of ideas, and the promotion of transformative educational practices. By uniting educators and introducing them to innovative tools like ChatPdf, the event fostered a community of passionate professionals committed to shaping the future of education. It showcased the power of networking and highlighted the role of technology in revolutionizing teaching and learning.
In conclusion, the recent networking event for teachers proved to be a transformative experience, empowering educators with valuable insights and resources.
We sincerely thank all speakers and participants for their time and cooperation. We will share the video of the webinar shortly.